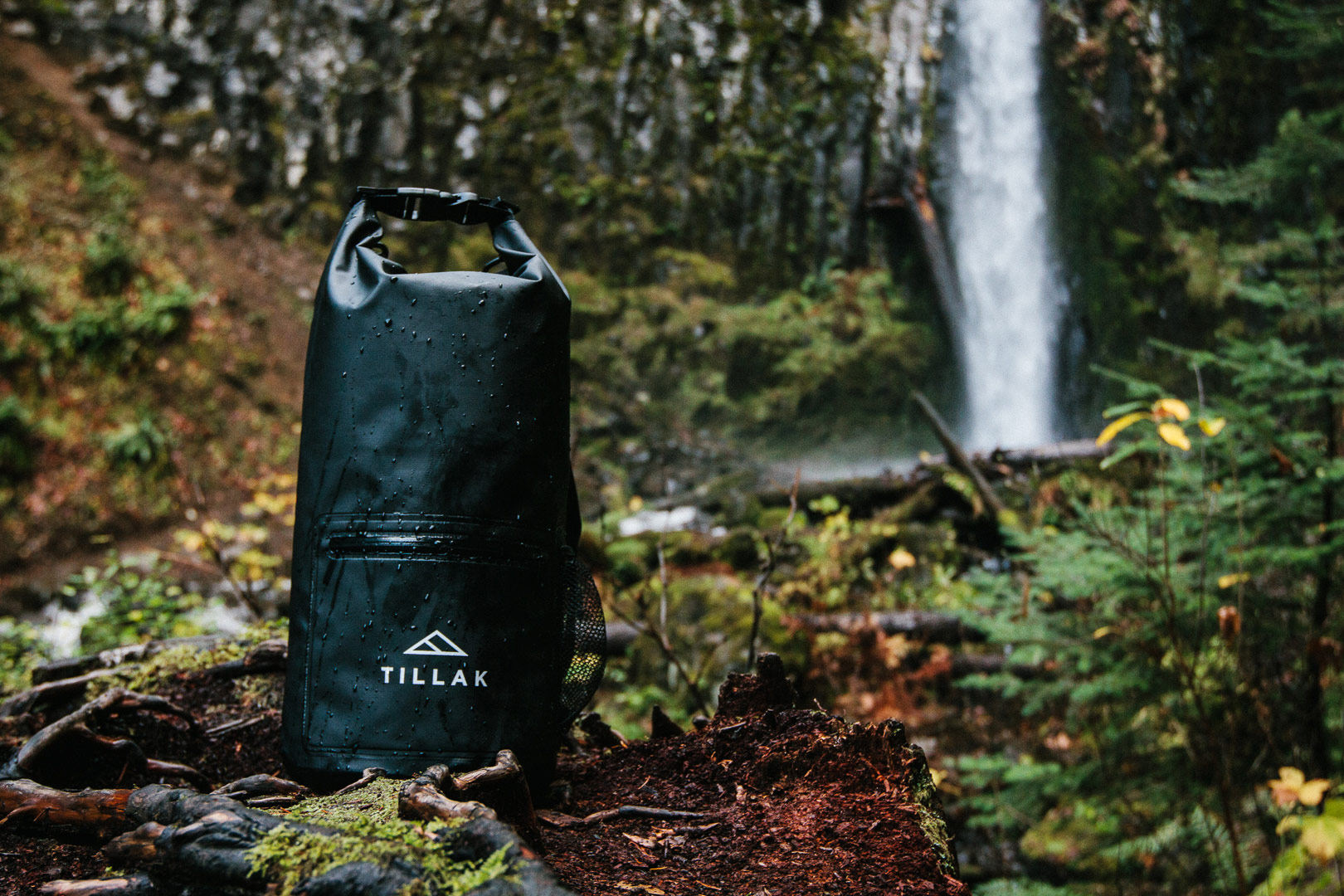 January 16, 2017 | By The Tillak Team
After spending the last few months getting all of our ducks in a row (doing all sorts of boring, company creating type stuff), we're incredibly excited to finally introduce to you our first available product: the Kiwanda Dry Bag! With 10 liters of waterproof storage, a durable outer shell, bottle pocket, and dual/wearable straps, it's a lightweight bag that can not only keep your stuff dry, but also easily hit the trail with you as a stand alone piece of gear.
As seasoned outdoor enthusiasts of varied breeds, we've had plenty of experience over the years with dry bags in general - they are a critical component of any "outdoorist's" arsenal. In general, they've historically been designed as bags to be stored within bags; constructed of ultra-light nylon or sil-nylon, with roll-top closures and limited portability. We've used such bags to keep our down gear and clothing dry within our backpacks, to house our camera gear and electronics when the skies opened up, and even to store our soaked wetsuits in the trunk after a morning surf session. For these applications the old bags got the job done, but they never lasted long, and more often than not, they eventually became damaged just by transporting them around.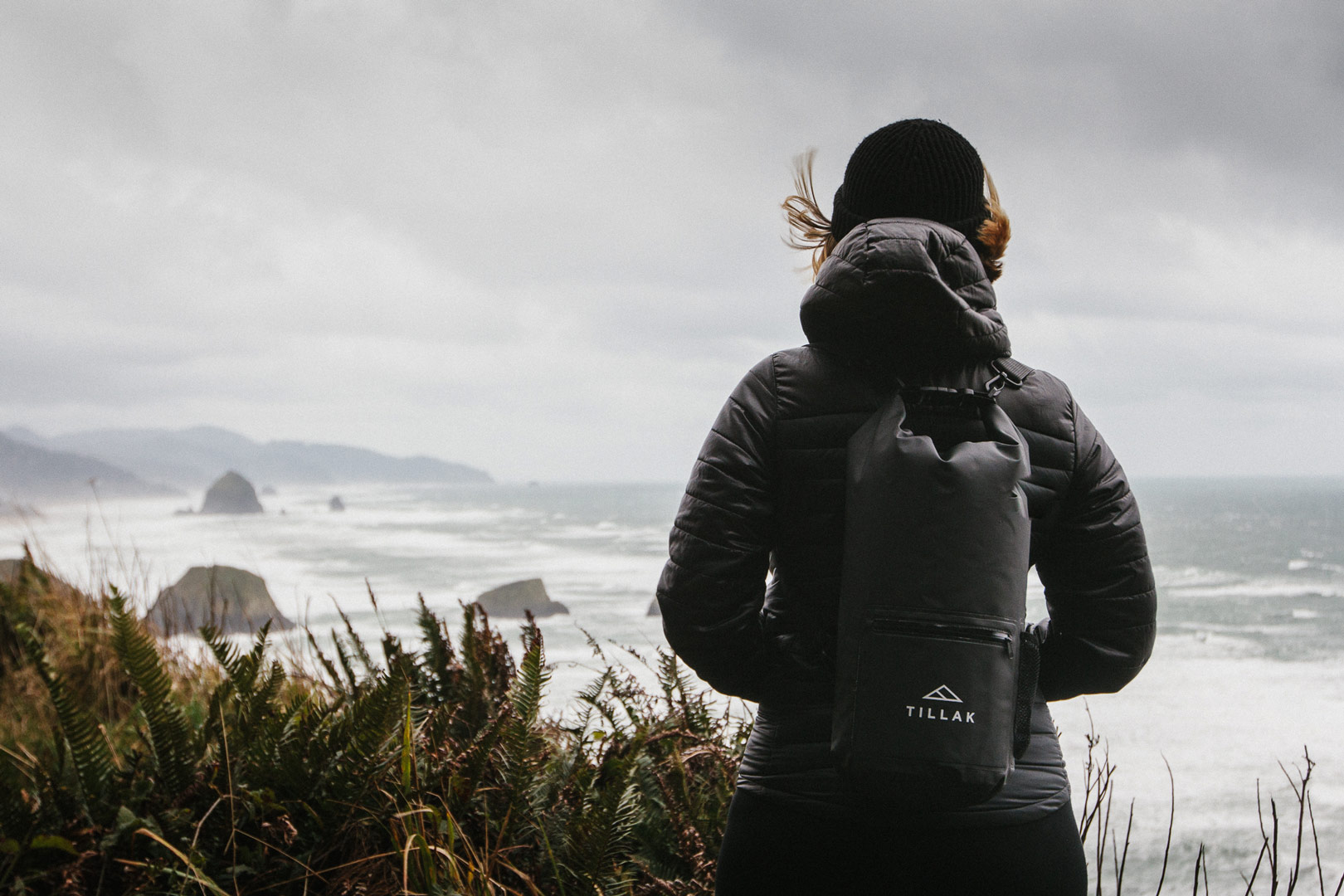 With the Kiwanda Dry Bag, we wanted to solve the issues of durability and portability, while maintaining the usability and increasing the functionality of a standard dry bag. To address the issues of wear, we manufactured the Kiwanda from durable yet lightweight vinyl coated 500-denier polyester, and welded the seams to keep water out (or in, in the case of a soaked wetsuit) for good. In other words, you can throw this one down on rocks or brush against tree trunks without fearing a tear or leak. Because we were so tired of carrying old dry bags by the roll-top closure, we added two sets of D-rings and removable straps to the Kiwanda, so it can be carried over the shoulder with one strap, or with two straps as a backpack when your load gets heavier. Or, if you're using it solely as a stuff sack, you can ditch the straps all together. To add to the Kiwanda's functionality we also added an external water bottle pocket and small splash-proof zippered external pocket, so you don't need to unroll your pack or expose your stored gear to the elements when you need to get out some money, your keys, chapstick, or take a drink of water (or beer).
Since we received our very first prototypes of the Kiwanda, we've been using them incessantly. They've come with us to carry our camera gear while fly fishing, they've carried our wetsuits and towels back from the beach, they've kept our stanky climbing shoes from wreaking up the backs of our cars, and they've been filled with beers and ice to quench our thirst after mountain bike rides. We've even brought Kiwandas with us on late summer trips to the alpine, serving as a stuff sack that keeps our sleeping bag and down gear dry while hiking, and that doubles as a peak-bagging day pack once base camp is all set up. Hell, we're still finding out new ways to use this thing, and we hope that you do too!
If you pick up a Kiwanda for yourself, let us know how you liked it and how you used it in a review on Amazon, and once every two weeks we'll choose a reviewer to receive another Kiwanda Dry Bag for free!